"We treat your project like it is ours."
William Molnar Roofing Company, Inc. approaches every building and every facility with a unique analysis as to which roof system is best suited as opposed to the one-size fits all approach.
Our estimators and project managers are knowledgeable and work closely with building owners, general contractors, construction managers and architects' to help develop project-specific specifications, advise regarding proper detailing at walls, curbs, mechanical, electrical & plumbing roof penetrations, proper insulation R- values, roof slope drainage systems, walkway systems, rooftop guard rail systems, roof patios & gardens, solar reflectivity, as well as, photovoltaic solar system installations, wall panel systems and more…
Molnar Roofing has been servicing Michigan, Ohio, Indiana and beyond since 1981, we have the historical data and experience necessary to tailor-fit the proper roofing system to a building owner with roof system options for a top-quality installation with-in budget. Our services include
• Modified Bitumen                    • EPDM
• TPO                                         • PVC
• Metal Roof & Wall Panels       • Green Roof
• Built-Up                                    • Coatings 
• Inspection & Maintenance
But our expertise does not end with your roof. Our passion is providing you with creative and comprehensive facility solutions. Our professional family of companies allows us to implement services including industrial and residential HVAC, heating and cooling services, metal panel and roofing material fabrication, and recommendations for many of your facility services.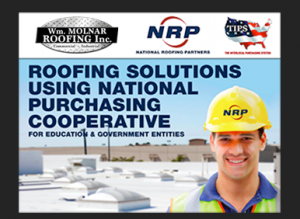 NRP's Cooperative Partner Program provides public agencies direct access to roofing and facility solutions that satisfy the public bid process and ultimately saves time and money. Unlike the traditional bid process, where low bid does not necessarily equate to best bid; NRP's pre-competed and awarded cooperative
contracts provide many benefits.
Wm. Molnar Roofing, Inc.
22201Pennsylvania Road
Brownstown Charter Township, MI 48193
Ph: 734-281-0591
Hours: M-F 7:00 am - 4:00 pm