As a General Contractor, what can you expect when doing business with Molnar Roofing?
We at Molnar Roofing pride ourselves on our thoroughness and you will see it in every aspect of our performance starting from bid time, making sure nothing is missed. You will never hear us say "Oops we missed that in the bid!" During proof of submittal time, we will prepare the submittals right the first time, you will not have to continually reject them because we missed some small detail. We are going to read through every line item of a contract and make sure that all the I's are dotted, and all the t's are crossed. That thoroughness is parlayed into our performance on the job site. When we are on a job site and a steel deck is installed before us, we are going to check the condition of that steel deck. We will not just assume that the deck was installed properly from the contractor who came before us. We will take the opportunity to check the conditions and any discrepancies are going to bring them to the contractor's attention. We will not just cover up something that will become a bigger problem later. We are thorough all the way through, from front end to close out.
Bidding Process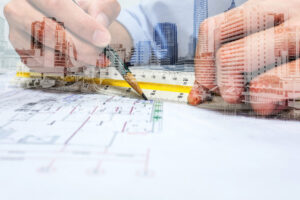 Molnar Roofing's participation with contractors typically begins with an invitation to bid on a project. Once invited we qualify the project to make sure we have the time to bid and whether or not it is the type of project that we perform. We then immediately notify the contractor of our intent to bid on the project or to pass.
We then print the plans and specifications as well as schedule a site visit if necessary. One aspect that differentiates Molnar from other roofing companies is our attention to detail. We thoroughly review all the plans and specifications even though they may seem "boilerplate" to some. Our experience has shown that scrutiny of all documents, procedures, and policies, unit costs and allowances ensure accuracy when bidding the appropriate scope and contingency items of each project. Every single portion is examined, even outside documents and references to regional, city or federal ordinances are investigated, so that nothing is missed.
Once the plans are reviewed, we go out to manufacturers that are approved and specifications for bid numbers on the materials required. We are then able to formulate an estimate and submit our bid using our forms or a contractor's specified form.
Ideally, once our bid is submitted, we like to stay in touch with the contractor. Communication at the beginning of a project keeps us informed as to how the project is running, what the job site and work environment are like and what other trades we will be working with. Fortunately, we have been in the business long enough that we have developed excellent working relationships with a majority of the trade contractors in the business.
Submittals
Once Molnar is awarded the contract and given the notice to proceed, that is when we start preparing our submittal documents and read every word of the contract. Less professional companies will just provide their standard submittal package. Whether it be for a General Contractor or Architect, Molnar's highly trained staff will meticulously review the specifications and provide the contractor or architect exactly the submittal that they want.  Submittal packages are always done right the first time according to the contractor's specifications.
Materials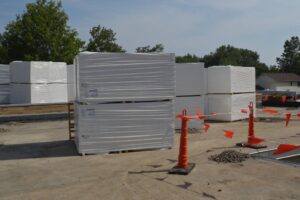 One of the things we try to be intelligent about is knowing that our economy can be volatile.  Knowing that the textile and petrochemical markets can affect our industry, we keep an eye on the markets to maintain an intelligent business plan throughout the project. If we are allowed by contract to purchase our materials, we will follow the market and purchase our materials when the market is low. We make sure we are buying at the right time and planning and giving our distributors plenty of notice for when we need the materials. This careful planning along with 30 acres of land and 30,000 sq. ft. of indoor weather-proof storage space will make sure that we are not overcrowding the job site with materials purchased 4 months early. When the job is ready, we will already have the materials, so we will never be a delay in your job because we are waiting for materials. We have the resources, the land and facilities, and the buying power to make sure that we are prepared when the job comes.
Documentation
We put our sworn statements together indicating which vendors we are using and the amounts we are spending with them. Schedule values, W-9's are prepared. We are very accustomed to preparing AIA billing documents, contractors documents, and consensus documents. If there are any other preferred or standardized documents used by contractors or architects, we have the flexibility to understand and complete those documents accordingly.
Insurance
Insurance requirements are second nature to us. We review every word of the insurance requirements. Many companies simply send in their standard insurance certificate and contractors we need to go back and ask why they don't match the contract documents. Just like our submittals, this is something that we get right the first time. Sometimes we have to enhance our coverage to match the needs of the contractor. We know how to comprehend and comply with the reading that is given to us.
Job Site Performance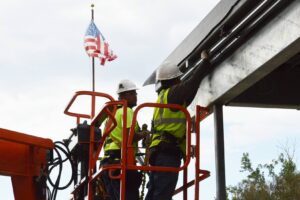 When it comes to preparing for job site performance, we have a Safety Committee and Safety Coordinator whose primary job is to ensure not only our MI-OSHA compliance but all Federal OSHA and other state OSHA compliance. We are also fully aware that most of our customers have their own safety policies. Most of the time we find that our safety policies are more stringent, but occasionally, we will work for a contractor whose safety policies are more stringent than ours.  While it can be a challenge to educate our workforce on multi-jurisdictional authorities, we are dedicated to educating our team on site-specific safety plans.
As a result, a detailed, site-specific safety plan is created for every job and we make note if there are superseding safety requirements from the contractor and take the time to train our workforce thoroughly.
Communication
As part of Job-Site Performance, we want to be kept in the loop at least 1 to 3 weeks ahead of time by going to the job site meetings making sure we know the people we will be working with and the equipment that will be on site. We need to know how much room there is on-site for storing materials and operating equipment. The main thing is that there is communication between Molnar and the contractor. If there is something, they need us for, even for 10 minutes, call us, because we want to be involved. Our goal is to get on the job and complete it as quickly as possible. Whatever it takes to push that job forward, we do it.
Closeouts
We realize that when we finish the roofing portion of the work the general project may only be 50% or more completed and that remaining percentage of work is still on the table for the contractor. Typically, we can't put our warranties in place until the whole project is done. It's unfair to the owner to have a brand-new roof that has a warranty that is a year and a half old. So, we comply with the requirement of our contracts so that we submit closeouts at the right time. However, when we get 100% of our scope work done or 90% plus, we want the contractor or owner to acknowledge that our scope of work is substantially complete. We don't want a 10% retainage sitting out on the bills that are due to us for the next year and a half. We would rather reduce that to 5% or 2 % or released at a reasonable amount of time. So, we prepare our closeout documents and can modify them later if we need to comply with a substantial completion date. We want to submit any added stock requirements, bond closeout requirements. If there are other payment procedural documents, such as waivers, conditionals, the partials, the unconditionals, we are aware of what each of those mean and what they stand for and how they operate. We have no problem with our closeout documents when it comes to our sworn statements and lien waivers and bond waivers. We will provide a clean closeout package complete with operating manual, warranty procedures in either hard copy or digital format.
Change Orders
If there are changes, either additional or deductive, we are very transparent. Our field personnel are fully capable of filling out change order requests on the spot. You won't have to wait a week for someone in the office to review and approve the process. Our field personnel can read plans and understand the scope of the work and carry the necessary paperwork for in the field change orders that can be signed off immediately. Our field and office staff have great lines of communication and that carries through to the contractor as well.