Building owners are the people we enjoy working with the most. Sometimes a building owner will go to a General Contractor, sometimes they will go to an Architect, sometimes they will go to Molnar Roofing directly. A lot of the building owners we work with are multiple building owners that we have had a long-term relationship with and have developed a well-earned trust factor. Because they don't have another party that they can lean on, it's quite an honor, much like when architects ask us for advice, when a building owner requests a quote or says "Do what you would do on your building and send me the bill." That amount of trust is something we do not take lightly.
 The Level of Service We Provide
We look at all aspects of that building. There are companies out there that swear there's one type of roof that is the world's best roof. The world's best roof is the one that is put on by the technicians that are paying attention.  All of the material that is available in the commercial market has been tested and is good quality material. The difference is in how it is installed. It needs to be installed according to the manufacturer's instructions, with trade tools that are the right tools for the job and personnel that are trained to know what they are doing.
If we are working on a building that is exposed to high winds or near a highway, we may recommend a heavier roof system like a built-up roof for that building. There are different circumstances for different buildings that require different materials, not just what we are most efficient at or what will make us the most money. Any job that we do has to be good for both parties. We want it to be a good system for that building and the owner. So even if it is a system that we are less proficient at, even though we are very-well cross-trained, if we are a little less efficient at built-up membrane or built-up materials than we are with EPDM, single-ply materials, if built-up materials are right for the job, that is what we are going to propose.
Advising a Customer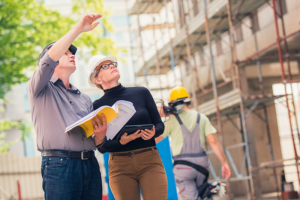 When it comes to the building owners, what level of education do they want to see? If we can understand what their goals are, then we can help specify a system that will help them reach their goals.
Often, when we communicate with a building owner, we hear from them when their roof leaks. And we may go out to the job and discover that it is plumbing leak from the roof drain and the roof is actually in fine condition and we will educate them accordingly. Really what they are telling us is they have a problem and that they are looking for are solutions. We know what questions to ask to figure out what their ultimate goals are.
Some building owners may have had a good financial year and they may not know that the recent tax code change allows them to expense a roof replacement in the year it was replaced. Before that, if you replaced a roof you would depreciate over a course of 29-1/2 years. Now you can depreciate it all in one year. So, there may be an owner who had a good financial year and may want to get the expense for that, even though they can buy another year or two out of the roof, they may want to do it now. We can ask the right questions to figure out if they want to wait and prolong replacement or, do they want to take care of it right away.
We can also advise a building owner in regard to tax planning associated with solar panel credits. If we put on a solar panel array system and we do the roof at the same time, which is necessary for the stanchions that go through to the structure, the cost of that installation with respect to the panels, is going into what is submitted to the IRS for 30% tax relief. Making sure those items are tied together to ensure that the owner gets the most bang for their buck is something we can coach them through.
In regard to the life-cycle cost of a roof, sometimes a building owner might not realize that with the R-10 insulating value that they have on their existing roof, they may get five more years out of that roof. But, if we replace that roof now and add 2-1/2 inches of insulation, that five years of savings on thermal value can pay for that roof replacement. So, we can educate them on the life-cycle value of the roof as it relates to heating and energy costs. Although a building owner may think they are doing the fiscally responsible thing by prolonging their roof for five years, if it has a low insulating value and your spending money on energy, we can reduce the cost of that energy that will sometimes offset the cost of the roof replacement. This is something we can educate them about early on if we understand what their goals are.
Your Building is a Tool to Generate Income


The most important thing that we understand and take into great consideration is that a business's building is a tool. That is a tool that you use to generate income. If we handicap your tool while we are on the job, you are losing income. As much as we are going to be obtrusive, we are going to familiarize ourselves with your operations. We are going to see if you have an entry or exit gate, delivery and drop off gate. We are going to see where your employees park and where your customers' park. We are going to educate ourselves on all those things so that we are least disruptive as possible. There is no getting around the fact that we are going to be there and that we will have tools, and trucks, and equipment. But we are not going to put it right in the middle of your customer flow of traffic. We are going to educate ourselves about your operations because we know your property is what earns you income. So, we are going to work with you, and we are going to work with your staff and personnel to make sure that, although we will be some disruption, it is going to be the least amount of disruption as possible. And we are going to do everything we can to not impact your bottom line for the negative.
There are times when that means setting up in the back of the building. There are also times when that means, no daytime work and we will be working in the evenings. There are times when we will start a job at 6:00 pm and put up floodlights and work until 3:00 am. Of course, these are all things that will go into the bidding process. If we are performing a job that is "nights only" or limited lot space, we will need to know that ahead of time. Because we will need to make accommodations to deal with the inefficiencies of working off a small set up area or working off a night crew as opposed to day crew and all these are factors that go into the bidding process. These are questions we ask at the very beginning so that we can keep an open dialogue.
Clarity in Contracts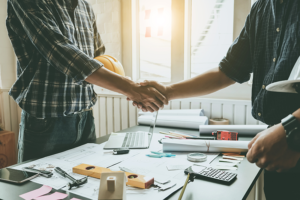 Once we prepare an estimate, we try to be very thorough in the write up of what we are giving that customer. You will never receive a contract from us that is 8pt font, single-spaced, double-sided, where you would need a magnifying glass to determine if you are going to be charged double somewhere down the line. Our contracts are typically 2 pages long and we may miss some of the legalize that our attorney would prefer that we kept in, but we are hitting the high points of what type of roof system and what type of surrounding conditions that we are working with and how it affects your facility.
We are very descriptive in terms of what code compliance that we have to accommodate. Being in southeastern Michigan we are in ASHRAE (American Society of Heating, Refrigerating and Air-Conditioning Engineers) Zone 4, but if we are working in the Bay City/Saginaw area we are in ASHRAE Zone 5. That has a huge impact on code. There are different insulating values that are required and different wind speeds that are there to comply with. We know where those zones start and end and we know where we have to bid the different requirements for the different zones.
Transparency and Communication
Our objective is to be as transparent as possible. There are many documents that we are not required to provide certain documentation and we don't want to overwhelm a building owner with documents they don't want. But if they want to see our waivers from our suppliers, we think it is important to give them the opportunity to see those things and let them know that we are paying our bills.
The worst possible thing that can happen for a building owner who is not familiar with Michigan's Lien Law is to pay a contractor for performance of work and pay $100,000 for a roofing job and two months later they get a notice from a supply company that they put a lien on your building because no one paid for the materials that are on your building. The owner then has to confront the roofer only to find out they don't have any money and the money given to the roofer went to pay for other bills.
We don't do that. We communicate accordingly with our customer that, this the vendor who has supplied the materials, this is their notice that states that we were here, and we dropped off the materials, and this is our receipt that states that we paid for the materials and that they've acknowledge the same. We pass that information along to make sure that they feel comfortable in the process.
Daily communication is very important, and our site crew is exceptional at communicating what the goal for the day is, where we are going to be potentially disruptive and how do we minimize our impact.
The Closeout Process
The closeout process with a building owner project is a little different versus when you close out with a contractor. When a project is completed a contractor will hand over to a building owner warranties from 30 different scopes of work and after 5 years if something goes wrong with your furnace, they tell you to call this number. If something goes wrong with your plumbing, call this number, and that is all covered in the closeout package.
We give the building owner a package and we say "if anything goes wrong with your roof, call us! We are always going to provide the number to the manufacturer as a backup but call us because we are going to help you facilitate your warranty claim. We don't want a warranty claim on a roof that we installed. The manufacturers that we work with create point structures that translate into a rating system that generates leads. If we have a roof that is five years old that we installed and it has a warranty claim on it, and if that is a $300 repair, we would rather eat that $300 and have a $0 cost to the customer and $0 cost to the manufacturer, because we prefer to keep a good rating with the manufacturer.
If there is a problem with the building, call us and if there is something that needs to be recorded with the manufacturer for a material defect, we will coordinate that, and we will make sure that the manufacturer pays for it. We will help fill out the paperwork. As much as a warranty can be good coverage, a lot of times it is just a big disclaimer and can create all kinds of time-consuming, administrative headaches that make it almost easier to pay someone a couple hundred dollars to fix the roof leak. We will take care of that for you and fill out all the paperwork to make sure the manufacturer stands behind their product.
One of the things we are striving to do is a follow-up process to where two years, three years, five years after we finish a project we will stop in and visit the building owner and making sure that everything is going the way its supposed to go. We want to maintain that relationship, even if it doesn't turn into additional work for us, we just want that owner to know that if anything does go wrong or the need arises, we are on the ball and we are ready.